MINERAL DEALERS IN OLATHE, KANSAS.

WE BUY COLLECTIONS

GALLERY 8




TSS-8
floating flattened rhombs of Smithsonite arranged in tumbling manor on matrix.
Tsumeb mine
Tsumeb, Namibia
4.5x4 cm
$75.00
SCE-8
Large sceptered specimen of Quartz. The specimen is partially coated with a third growth of sugary Quartz
Dal'negorsk, Primorskiy Kray,
Russia
$80.00
WOW-8
A matrix consisting of large intergrown Wulfenites is host to a large grouping of thin straw yellow
crystals with a third generation of smaller crystals on there faces with accompanying crystals of Calcite. Very nice.
Ahmad Abad
Yazd Prov.
Iran
6.5x5.6 cm
$250.00
MSO-8
Awesome orange spheres of Mimetite on a matrix Mimetite.
I love the color of these. Color is more orange than shown.
6x5.5 cm
Chah Milleh Mine
Anarak District, Nain County
Esfahan Province, Iran
$150.00
RWU-8
Seldom seen red crystals of Wulfenite with Vanadenite from a classic location.
Crystals are more reminescent of Red Cloud material.
crystals to 1 CM.
6.5x5.5 cm
Old Yuma Mine
Tucson, Arizona
Collected in 1973
13x4.5 cm
$355.00
SBU-8
Rootbeer crystals of Andradite Garnet on Matrix from the well known Stanley Butte mine ,Arizona.
4.8x4.5 cm
Stanley Butte Mine
Santa Teresa Mts.
Graham Cnty. Arizona
$60.00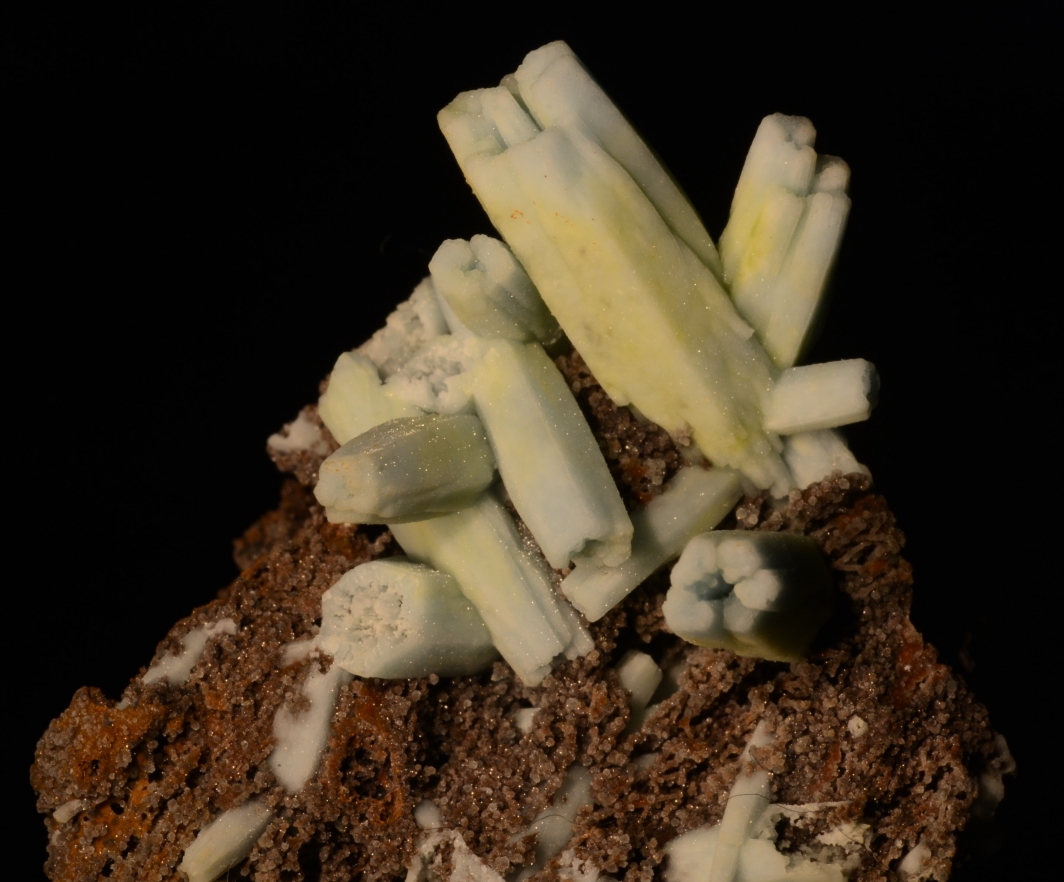 PLU-8
Incredible sharp pseudomorph of sparkly light blue Plumbogumite after Pyromorphite.
Incredibly aesthetic specimen of free standing crystals on matrix.
3.9 x 3 cm
Yangshuo Mine,Yangshuo Co.
Guilin, Guangxi Zhuang, China
$340.00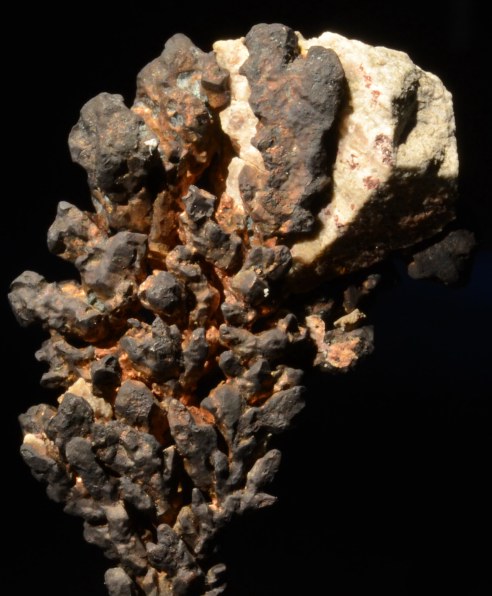 DEN-8
Copper dendrites forming a rather arborial specimen.
wonderful specimen .
5x2.7 cm
Ray Mine, Pinal Cnty.
Arizona
$45.00
Bro-8
Electric green needles of Brochantite cover both sides of this specimen
which is capped by thicker stout crystals of Brochantite. A wonderful tabular specimen that
will probably only be a hand delivered specimen.
3.5x3.5 cm
Milpillas Mine, Cuitaca, Santa Cruz, Sonora, Mexico
$600.00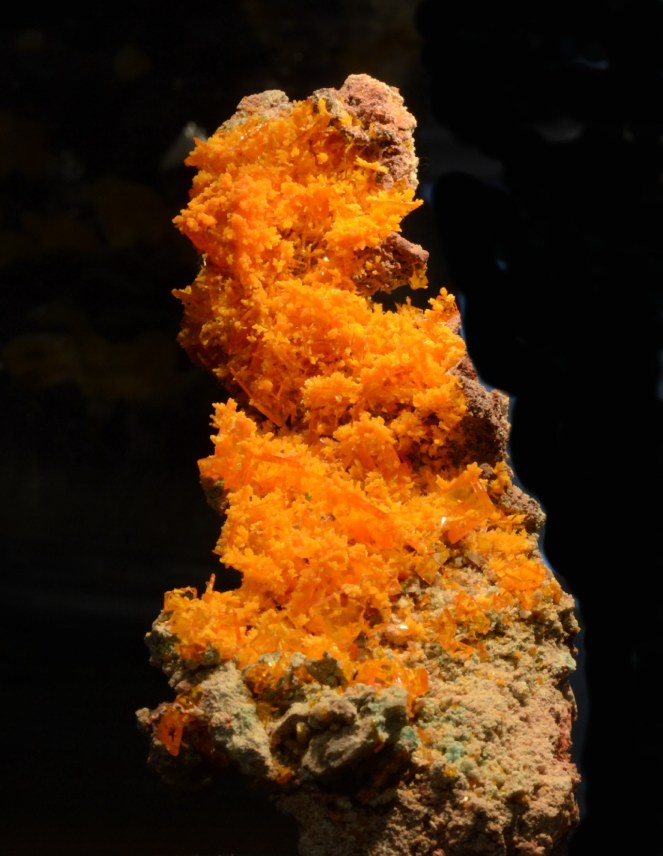 ROW-8
Incredible feather like day glow orange crystals of Mimetite on water clear orange Wulfenite
on a semi friable matrix from the world famous rowley mine.
This specimen as like the one above is super fragile and will only be hand delivery.
10x 4.8 cm
Rowley Mine Theba, Arizona
$500.00
sph-8
Thumber of great fire orange spheracal crystals of Mimetite.
2.5x2.5
Chah Milleh Mine
Anarak District, Nain County
Esfahan Province, Iran
$95.00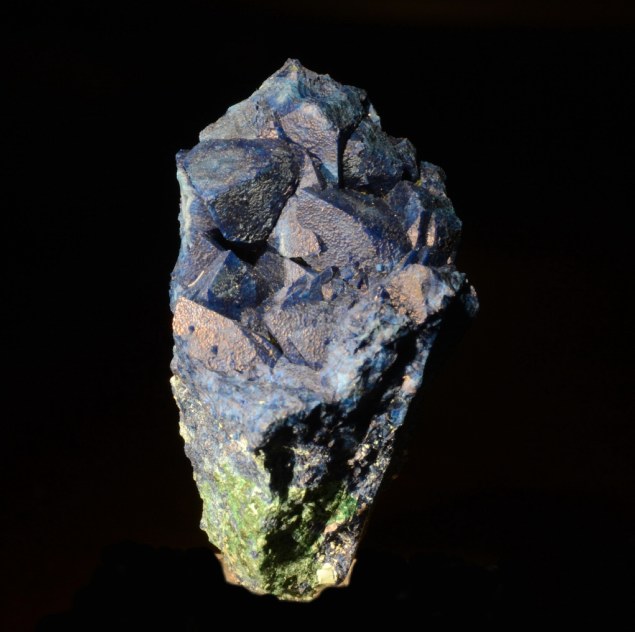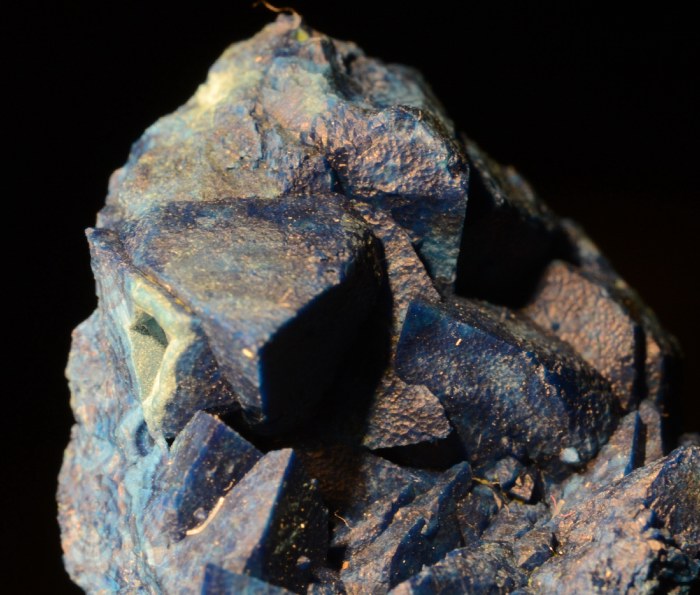 SHA-8
Sharp Dark blue Crystals of Shattuckite after Calcite
with minor dioptase.
Tantara Mine, Shinkolobwe,
Katanga, Congo
3.5x1.8 cm
$180.00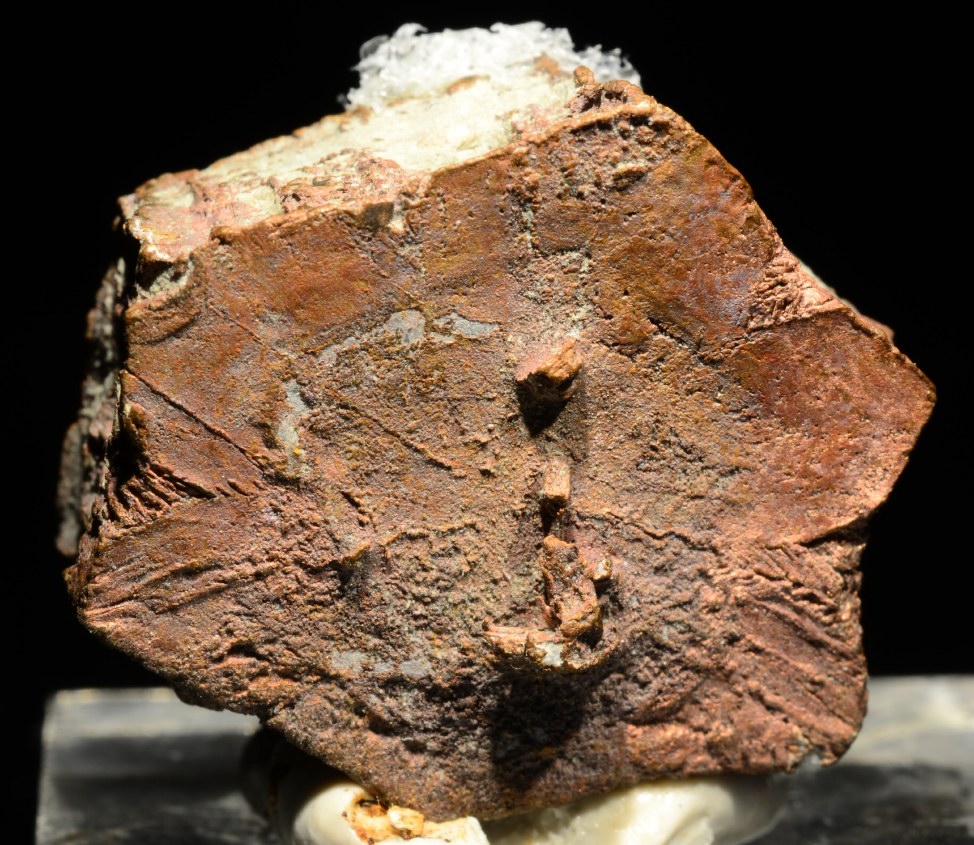 psc-8
Sharp pseudomorph of copper after a large crystal of Aragonite.
Very interesting specimen.
Coro Coro , Bolivia
2.7x2.5 cm
130.00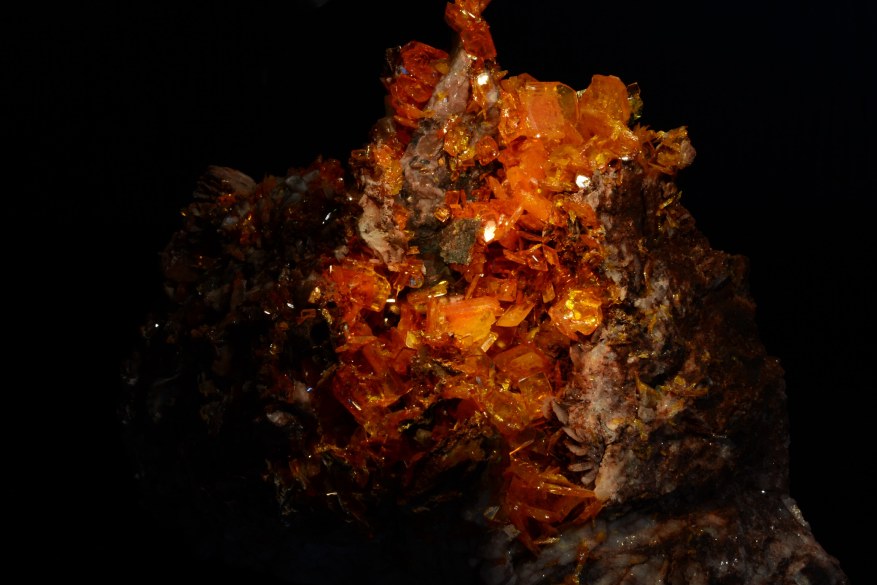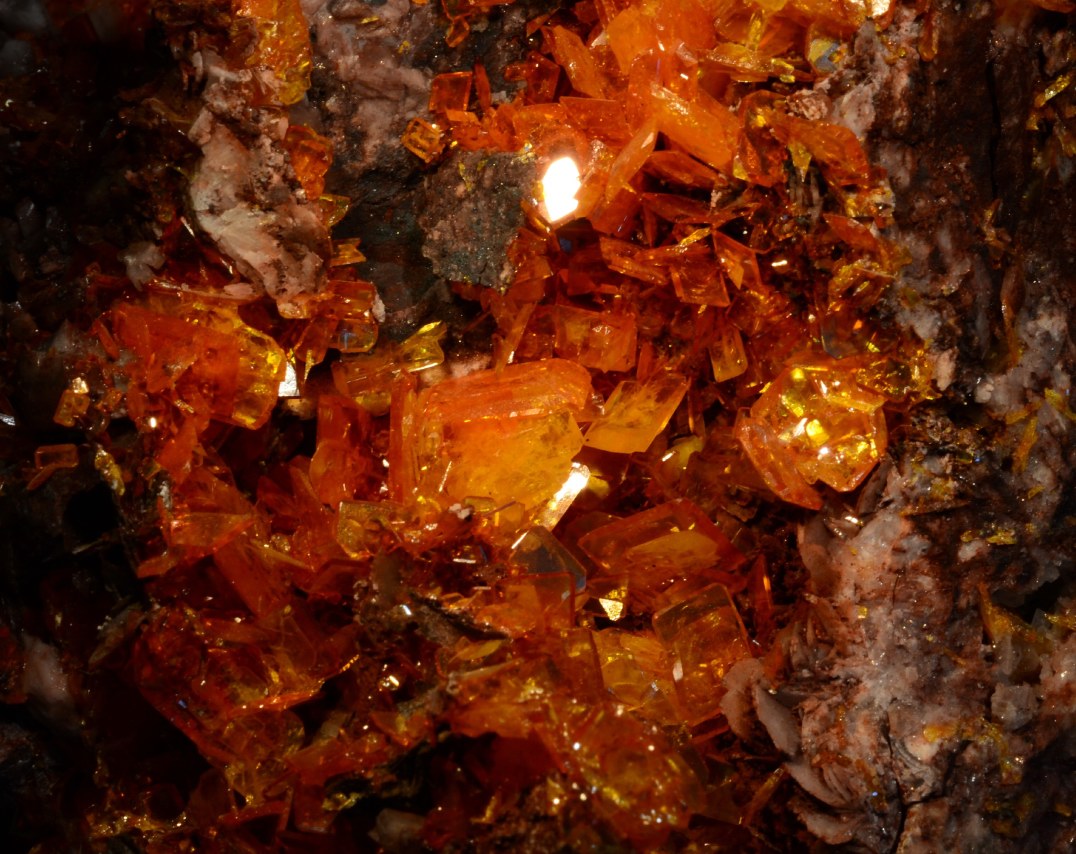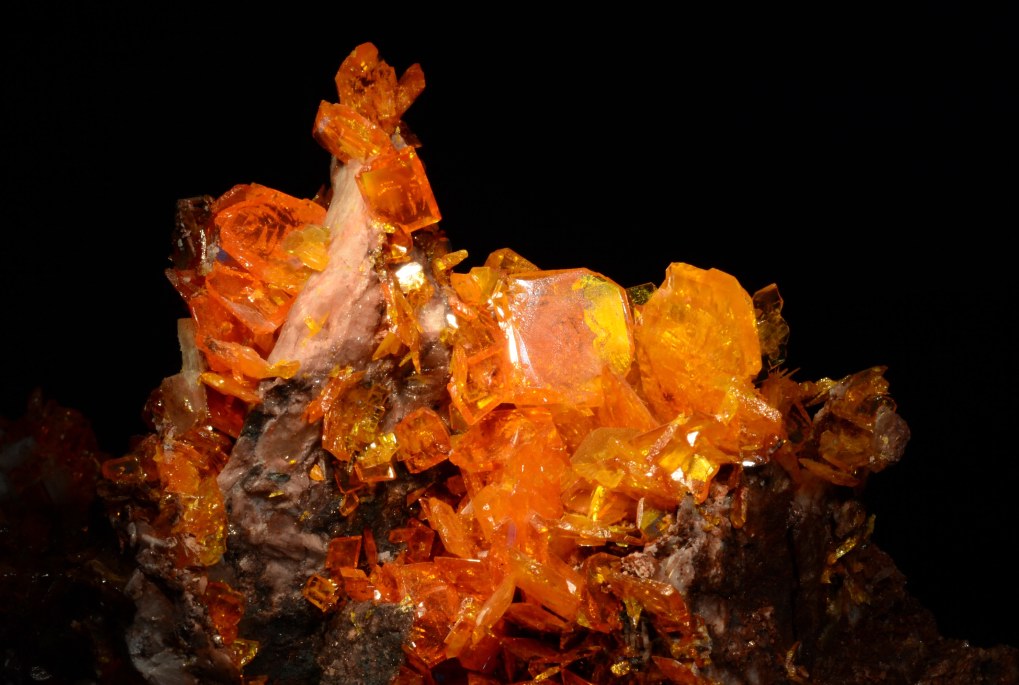 cab-8
Ok. This is the definition of an aesthetic specimen.
It is a very large matrix piece with a intact vug of bright orange glassy window pane's of Wulfenite.
Again this is a hand delivered specimen. The sheer size and weight of it is it's own enemy.
Wonderful museum size specimen.
Rowley Mine
Theba , Arizona.
15x12 cm
$1000.00




SCS-8

Super sharp crystals of calcite on matrix with a orange color provided by Hematite. If you look closer to the base you can see a second
generation of white Calcite that was growing up to enclose the earlier generation.
9x8 cm
Arja vas, Celjo, Slovenia
$180.00


Sharp mirror luster crystals of Galena set on a matrix that gives them the appearance that there tumbling down an incline of DruzyPyrite on Chert.

The crystals growing on the faces of the larger cubes give the specimen more depth. Wonderful old time specimen from the collection of Forrest Cureton and comes with his data card showing the specimen was aquired in 1956.

10 x 6.5 cm
Joplin Fields
Tri state district, Jasper County
Missouri
$350.00

sold



Strange specimen of bright green Pyromorphite.
Flat parallel crystals of Pyromorphite wrap around a central point forming a "rolled" group .
The specimen is hollow in the middle as you can see from the yawning mouth at the top of the .
Neat specimen.
3.5 x 1.5 cm
Daoping Mine
Guangxi Zhuang
China
$130.00


LCC-8

Large Cabinet specimen on white translucent Calcite clusters on
a peach colored younger generation Calcite on matrix.
20.5x 11 cm
Wenshan Autonomous Prefecture
Yunnan Province
China
$350.00



GBR-8
There are a lot of Rosasites out there on the web. Most are crusts with missing edges of damage.
This is a perfect thick rounded mass of beautiful teal Rosasite.
3.8x2.5 cm
Mina Ojuela, Mapimi
Durango, Mexico
$130.00



TYF-8
Bright yellow translucent lustrous crystals of Fluorite on matrix.
5x3.5 cm
Henan Province,
China
$300.00


CTS-8

Fantastic arboreal copper on a blocky copper matrix. The crystals come off the matrix like a moonscape or trunks of old gnarled trees.
Wonderful coppery brown patina.
6 x 4 cm
Houghton County
Michigan
$200.00



BMA-8

Wow! The color on this specimen just pops!
Electric blue Azurite is host to equally bright green Malachite.
Surely this will be one of the brightest specimens in your cabinet!
4.8x4.3 cm
Bisbee,
Cochise County
Arizona
$250.00


AKS-8

Bubbly botryoidal yellow smithsonite on matrix. The chatoyant of this specimen is fantastic!
Please feel free to check the web for a finer specimen of Arkansas Smithsonite.
I assure you will not find one.
8x5 cm
Monte Cristo Mine
Rush, Marion Co.,
Arkansas
$600.00


RCS-8

Red micro cubic crystals of Siderite on Calcite reminiscent of the Calcite's from Fitzington.

Wonderful dogtooth mound with "pop".
9x7 cm
San Antonio Mine
Chihuahua, Mexico
$200.00



Neat specimen of two fat tabular crystals of Azurite on a matrix of Malachite.
The crystals sit perfectly on the matrix. Showy specimen.
5x5 cm
Liu fengshan, Anhui Province,
China
$350.00
WHP-8
Thin yellow blades of Wulfenite generously covered in light blue Hemimorphite.
Blades to 2.5 cm There is one broken crystal as seen in the picture.
Crystals to this size with the blue coating of Hemimorphite are quite rare from the location.
I have seen others but they are usually grey.
4x3.5 cm
79 Mine
Hayden, Arizona
$200.00
BAY-8
Prismatic crystals of Mimetite replaced by the rare lead copper arsenate, Bayldonite. The Bayldonite is
providing a home for several lustrous crystals of Azurite.
One of the Azurite crystals is altering to Malachite.
Tsumeb Mine
Tsumeb, Namibia
3.8x2.8 cm
$250.00
SID-8
Double terminated scalenohedral crystals of calcite replaced by Siderite and Sphalerite to 1.8 cm
The crystals are hollow but don't have the typical broken crystal showing the hollow interior.
Some of these have been found to hold a fine grained sand of what some speculate is the remainder of the now gone Calcite.
Aggeneyes
Northern Cape Province
South Africa
4x4.5 cm
$60.00
SCO-8
A spray of transparent to transluscent crystals of Scolicite is home to cubic crystals yellow Calcite.
The backside is completely covered in the Calcites.
Nasik, Maharashtra, India
12x5.5 cm
$80.00
CEL-8
A stunning spray on Celestite in a vug covered in thousands of smaller crystals.
There are small Chalcopyrites scattered on the crystals as well.
The aesthetics on this one are through the roof. Some broken crystals on the lower half but does not distract.
14x6 cm
Edward Kraemer and Sons Quarry
Clay center, Ohio
$200.00
GOE-8
Several Goethite stalactites are home to thousands of water clear
crystals of hemimorphite. Very showy specimen!
Ojuela Mine, Mapimi
Mun. De. Mapimi
Durango, Mexico
8x4.4 cm
$240.00