MINERAL DEALERS IN OLATHE, KANSAS.

WE BUY COLLECTIONS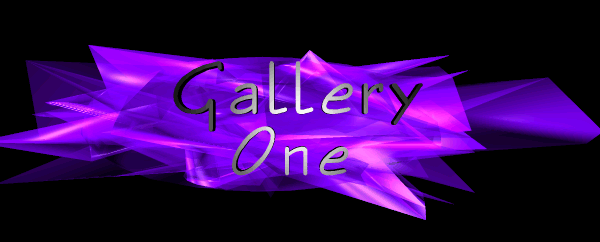 o
CRE-1
Rusty orange crystals of Creedite forming a radiating ball.
5x5 cm
Mina Navidad
Rodeo, Durango
Mexico
$35.00
PUR-1
Light lavender tabular Fluorite crystals on matrix.
These are said to fluoresce red but we do not own the equiptment.
6.2x2.5
Mina Ojuela, Mapimi, Durango, Mexico
$20.00
sold
COP-1
Large and heavy copper on matrix.
These are taken from the mine cleaned in a acid bath and sealed to prevent them from weathering to a dark patina.
14x5 cm
Keweenaw Peninsula Copper District, Michigan
$40.00
THE-1
Thumber of bright orange Mimetite on matrix with Orange panes of Wulfenite on matrix.
3.5x3 cm
Rowley Mine
Theba Arizona
$35.00
PER-1
Green internally gemmy crystal of Foresterite (Peridiot) with a crystal of Magnatite imbedded.
2.5x2 cm
Manshera,
Naran-Kugan Valley
NW Frontier, Pakistan
$45.00
SOLD
bgw-1
Gemmy thick orange Wulfenites in a bright cluster.
This specimen is from the Minette collection and comes with their label and data card .
2.5x2.3 cm
Aurora Mine, Cuchillo Parado
Nun. de Coyame
Chihuahua, Mexico
$200.00
MAM-1
Fire orange red transparent crystals of Wulfenite with Mimetite
from the classic Mammoth Saint Anthony mine. From our personal collection.
4.1x2.6
Mammoth-Saint Anthony Mine (Mammoth-St Anthony Mine; Mammoth Mine; St. Anthony Mine),
St. Anthony deposit, Tiger, Mammoth District, Pinal Co., Arizona, USA
$500.00
ANH-1
Box work skeletal crystals of Quartz after Anhydrite in a fan host
several crystals of transparent Quartz crystals.
Paterson, New Jersey
4.5x3.5 cm
$100.00
AZU-1
Small specimen of fine bladed crystals of Azurite partially pseudomorphed to Malachite.
2x1.8 cm
Kerrouchene (Kerrouchen), Khenifra Province, Meknes-Tafilalet Region, Morocco
$45.00
CAL-1
Transparent highly modified pseudo cubic Calcite crystals on matrix.
Nice!
5.4x 4 cm
N'Chwaning Mines, Kuruman, Kalahari manganese field, Northern Cape Province, South Africa
$100.00
BYM-1
Lemon yellow classic!
Rolling botryoidal crystals of Yellow Mimetite forming
a very aesthetic specimen.
From the Fenn find of 1969.
3.5x2.7 cm
Congreso-Leon Mine, León Group, San Pedro Corralitos,
Mun. de Casas Grandes, Chihuahua, Mexico
$90.00
sold
ASQ-1
Wow! A light lavender doubly terminate crystal of Quartz set upon a white
transluscent stem of Quartz forming a knockout scepter. Could use an acid bath to remove small iron stains.
4x3.5 cm
Washington Camp-Duquesne District, Patagonia District, Patagonia Mts, Santa Cruz Co., Arizona, USA
$100.00
TMC-1
Large specimen of sparkly Mimetite crystals on matrix.
8x6.5 cm
Tsumeb Mine
Tsumeb Namibia, South Africa
$200.00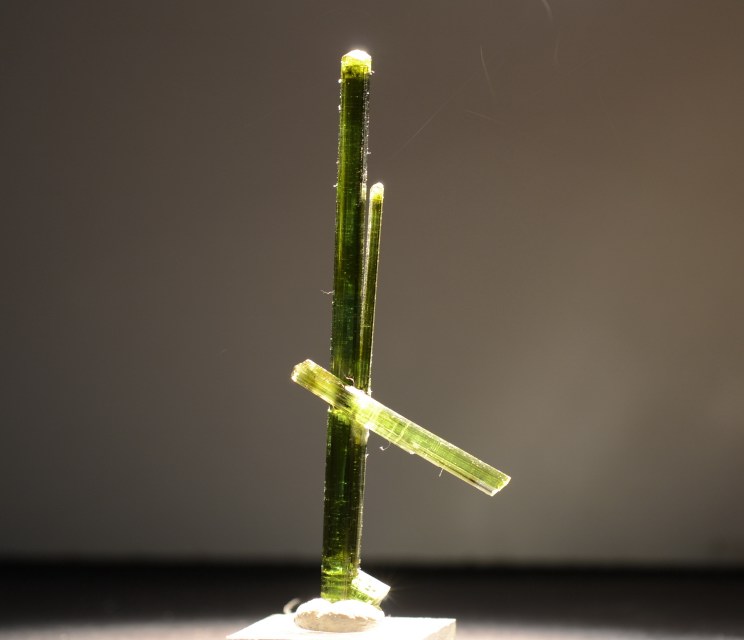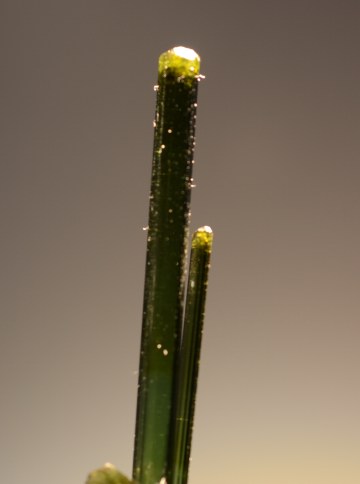 PTS- 1
A pencel of gem green Tourmaline with a parallel crystal and a crystal thar grew accross the specimen.
This specimen has been repaired. Wonderful gem crystal
7.6x3 cm
Pederneira claim, Sao Jose da Safira, Doce valley, Minas Gerais, Brazil
$200.00
BFC-1
Purple cube of Fluorite on matrix. The edge is not cleaved it is a internal fracture. Some small rat bites.
Mina Ojuela, Mapimi, Durango, Mexico
4.5x5 cm
$30.00
SOLD
MIM-1
Yellow radiating crystals of Mimetite form spheres on a contrasting limonite matrix.
Good seperation of the crystals.
San Pedro Corallitos
Chihuahua, Mexico
7.3 x 4.5 cm
$250.00
sold
UCE-1
Union Carbide produced Emerald. Great color. Unique man made stone.
Union Carbide
1 x .4cm
75.00
BER-1
Colorless stacked tabular crystals of Beryl .
Nice thumber!
Resplendor, Minas Gerais,
Brazil
1.8x2 cm
40.00
CCA-1
Water clear prismatic double and single terminated crystals of Calcite.
Wonderful specimen out of our personal collection and comes with our collection label.
Wuzhou Prefecture, Guangxi Zhuang Autonomous Region, China
4 x 4 cm
$500.00
Hem-1
Orange red fans of Hemimorphite on matrix sprinkled with Calcite.
3.2.6 cm
Ojuela Mine
Mapimi, Durango
Mexico
$18.00
THV-1
Burnt orange crystals of Vanadinite capped with druzy Calcite.
The back of the specimen has a druze of Calcite as well as larger Calcite crystals.
San Carlos, Chihuahua, Mexico
2.2x1.5 cm
$40.00